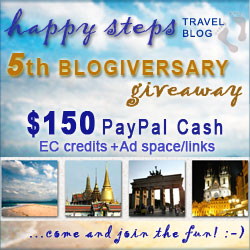 Happy Steps travel blog just turned 5! 🙂
Yup, reaching 5 years in the blogosphere is definitely a great reason to celebrate, and we've come up with a giveaway to thank you, our dear readers, for your support all through these years.
Giveaway prizes are the following:
1 winner of $150 PayPal Cash (convertible to PHP for Philippine residents without PayPal accounts)
3 winners of 10,000 Entrecard credits (for those with valid Entrecard accounts) Prize is not available due to Entrecard site downtime.*
4 winners of Advertising Space (125x125px) for one month at Happy Steps travel blog
3 winners of Advertising Links for one month at Ideas N Pink
Giveaway ends on September 25, 2012.
Big thanks to the following awesome blogs for helping me host this giveaway. 🙂
The Joys of Simple Life | Rainydazeee | The Salitype Society | Ideas N Pink | Breathe In…Breathe Out | Happy Caity | Filipino Foods, Dishes And Recipes | Digipxl | Traveling Freelancer | Life, Day by Day
To join, simply fill up the required tasks in the Rafflecopter widget below.
Mandatory entries (you need to complete these tasks to qualify for the raffle):
1. Blog about this giveaway (simply copy and paste to your blog post the html codes provided in Rafflecopter widget)
2. Facebook likes
3. Twitter follows
4. Comment on this post (answer the question provided in the Rafflecopter widget)
Daily Optional entries (do these simple tasks to greatly increase your chances of winning):
1. Blog comments at The Joys of Simple Life and Breathe In…Breathe Out
2. Tweet about this giveaway
3. Post this giveaway in your Facebook wall
Bonus entry exclusive for Entrecard blogs with valid Entrecard accounts. Simply input your Entrecard details in the Rafflecopter widget to get a chance to win 10,000 Entrecard credits! Prize is not available due to Entrecard site downtime.*
IMPORTANT: Please refer to the Rafflecopter widget for the detailed instructions.
All entries will be verified. We don't want you to miss your chances, so please double check your links, likes, tweets and other required tasks for them to be validated and included in the raffle. Send me a message via the Contact form or email me at happysteps1107 at yahoo dot com.
Thanks for joining. Have fun! 🙂
* Important update as of September 26, 2012:
Entrecard has been down for more than a week already. We have no idea when it will be back or if the site owners/admins plan to have it back. Our apologies to those who entered their Entrecard details hoping to be one of the 3 winners of the 10000 EC credits. In case Entrecard will be up again, we will raffle off the qualified entries and possibly add more winners.