Continued from Discovering Ilocos Norte & Ilocos Sur: Trip preparation

Who wouldn't be thrilled to travel to a place nicknamed as the 'Sunshine City' and fondly hailed as the 'Sparkling Gem of Ilocandia'? Laoag City got its name from the Ilocano term for 'light' or 'brightness'. Offering historical landmarks and buildings to be explored just within the city proper, Laoag has that laidback charm that appeals to its guests – calesas or horsedrawn carriages leisurely plying the road as sleek automobiles speedily pass by, a centuries-old structure standing out fascinatingly in a busy street, and more. No wonder this lively city is a recipient of numerous recognitions and awards from various tourism and government institutions. Being the capital of Ilocos Norte, it serves as the perfect starting off point for more tourist attractions to be discovered in Ilocos.
Our Laoag City tour was quite a rush for me and my travel buddy, my 70-ish mom, but nevertheless we were able to have a feel of this place amidst the gloomy late afternoon sky. From Laoag Airport, we got a free shuttle ride via the SiriBus and instructed the driver to drop us at a bank (we had some important transactions due for that day) where we met a couple of locals, fellow prayer partners from our community whom we contacted days before. Though it was just our first meeting, they showed us that unmistakable Ilocano warmth, simplicity and friendliness. We immediately felt at home and glad to be with these two down-to-earth ladies as they rode with us via tricycle to our chosen Laoag accommodation, Balay da Blas, a three-storey pension house not far from the city center.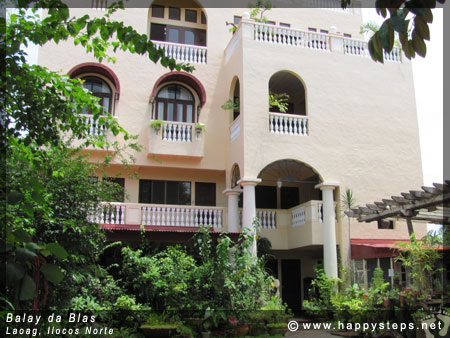 We were greeted and welcomed by the receptionist at the counter, a friendly and efficient lady, who gave us a room upgrade – we got the deluxe suite at the ground floor instead of the standard room which we reserved at the second floor. What a blessing indeed! After a late lunch in our cozy room while chatting with our new friends, it was time to explore the city.
In Laoag, there are tricycles plying the streets that tourists and locals can easily hire to take them to their destination. Off we went to our first stop, at the Ilocos Norte Provincial Capitol. Visiting notable landmarks and buildings in Laoag is a breeze as these can be easily reached on foot. For instance, Aurora Park was just across the Provincial Capitol building. At the center of the park is a notable fountain with the statue of Pamulinawen, and few steps further within the park is the Tobacco Monopoly Monument.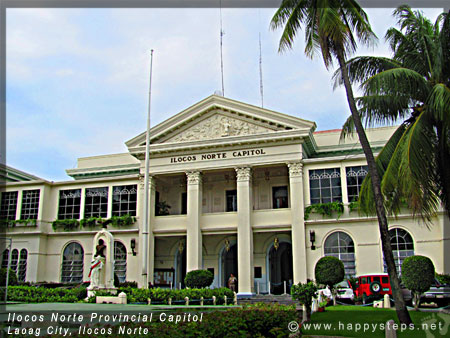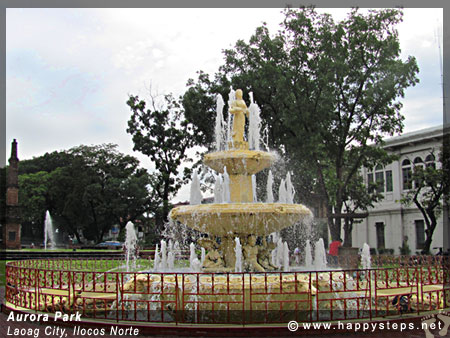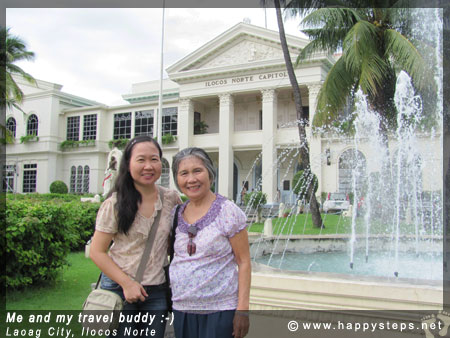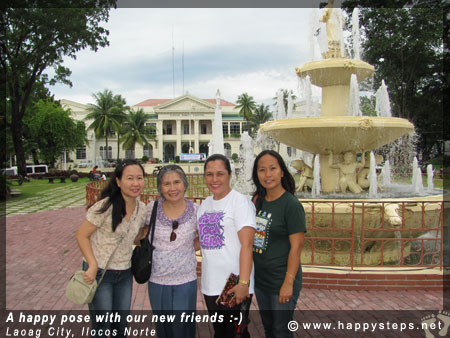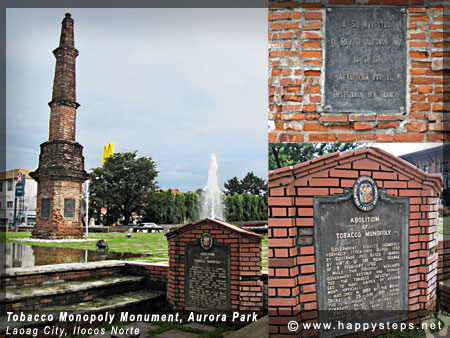 From the Provincial Capitol, you can walk to other nearby places of interest such as the Museo Ilocos Norte, Marcos Hall of Justice, the Laoag City Hall, the Sinking Bell Tower and Saint William's Cathedral. You can do a walking tour for your sightseeing in Laoag just like what we did or alternately hire a calesa and feel like a real tourist on a leisurely trip around the city.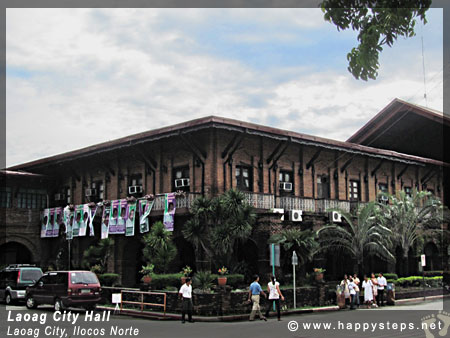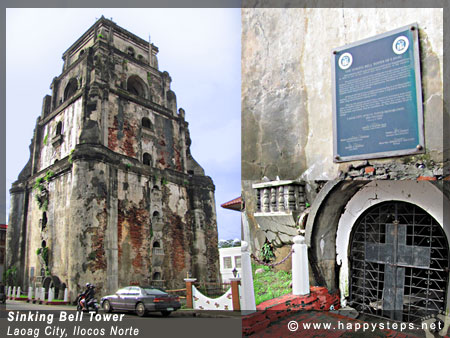 It was already dark as we went out after attending a late afternoon Mass in Ilocano at St. William's Cathedral. We were delighted to see the moon peacefully claiming its throne in the clear evening sky signifying the end of the rainstorms which drenched the city few days before.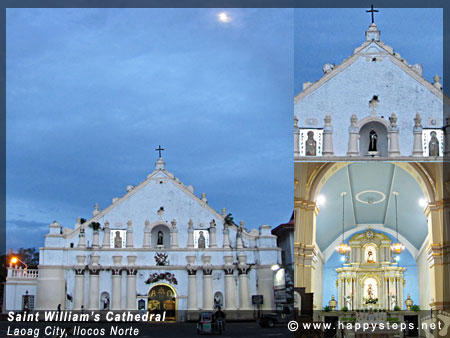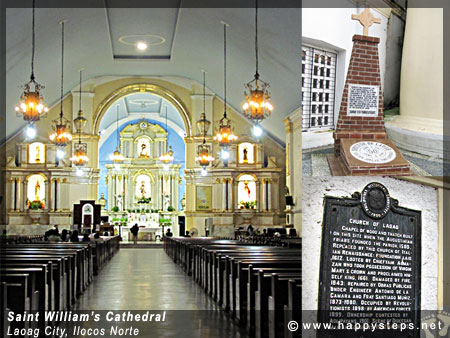 The streets looked so inviting; they seemed to be begging for an evening exploration from us, their new guests, as they were illuminated in different shades of light coming from various lamp sources. It was such a captivating evening scene, enough to make a curious newcomer want to tour the city that night, go on a food trip and indulge in some local delicacies at the food stalls, drop by a few shops for souvenirs, or walk to the market and check out some native Ilocano delicacies.
But, regrettably, we were already tired and instead decided to go home and rest. At least we had this scrumptious beef soup (sorry I forgot the name) for dinner in our room, ordered from the menu provided by Balay da Blas. Such a satisfying Ilocano-cooked meal to cap a busy day. Sarap!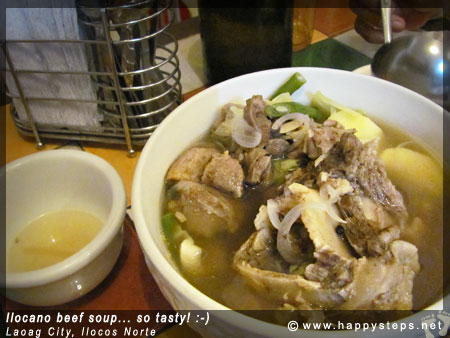 Day One of our Ilocos trip gave me a good overview of Ilocano culture and hospitality – the old yet fascinating historical structures, the unique Ilocano dialect which to me is a challenge to learn, our new friends from our community who gladly took time out to be our guide, the respectful assistance from one of the young students who took our group picture at the park. These are just few of the little things observed that made an impression on me on the first day of our stay, and I experienced more of such warmth and hospitality of the Ilocanos until our trip back home. It was just the start of our trip but I've already decided in my heart that this was one of the places I'd love to visit again.
But allow me to continue my travelogue and take you to Day 2, a crammed tour I should say, with a visit to Paoay and Vigan all squeezed in one day.
To be continued…
Related Posts
Discovering Ilocos Norte & Ilocos Sur: Trip preparation