Yes, summer is here! I'm sure most travel enthusiasts have already lined up some getaway destinations on their list. Going on a vacation is truly one way to unwind and destress, but one can't have that perfect holiday without some travel planning and preparation. That includes being equipped with the trip essentials, stuff that you really need for comfort and convenience during travel.
Online travel store
For those who don't have much time going to the malls to shop for an upcoming trip, the Internet is the best option. A lot of offers on travel must-haves are easily purchased via one's mouse click from online shopping sites such as Lazada where you can even have an order shipped within one to five days (for Metro Manila areas). Whether it's an overnight stay or an extended one, it's good to be geared up with the right travel bags and luggages, as well as those cool accessories for your trip. Why not bring a neck pillow to make you comfy during long road trips, or easily sort your stuff with foldable organizers and packing cubes?
Travel bags and luggages
Most travelers already have their favorite bags, backpacks and suitcases on hand, ready for the next trip. But if you're thinking of buying a new set of travel buddies as replacement or additional option, you can have the Racini soft-case 24" luggage as your latest companion. It comes with a stainless trolley with stylish grab handle, TSA International Lock, rubberized wheels, and other nifty features.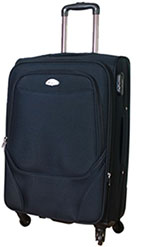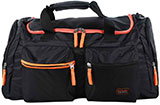 Travel bags (L – R): Racini soft-case 24" luggage, Pockets Weekender overnight bag and the Winpard Diviley travel duffle bag
For overnight stays or few days of vacation, the Pockets Weekender overnight bag or the Winpard Diviley travel duffle bag are great choices. These are handy water-resistant bags that you can readily use and where you can conveniently store your basic trip essentials. Most overnight bags can be accommodated in plane cabins and bus overhead compartments.
Travel accessories
Gear up on some travel accessories to make your trip stress-free. Travel organizers come in different sizes and styles. For instance, you may opt for the Cocoon Grid-It! organizer for storing your gadgets or get the Le Organize Electronic Organizer bag instead if you prefer a compartment-style of storage.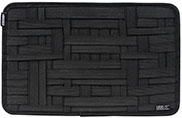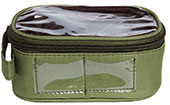 Travel organizers: Cocoon Grid-It! organizer (L) and the Le Organize Electronic Organizer bag (R)

Other items that can help make your trip more comfy and organized include the following: toiletry kit, document pouch, keyholder, card holder, passport organizer, bag tag, luggage strap, neck pillow, eye mask, laptop sleeves and cases, and other trip essentials.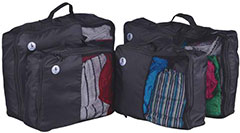 Travel organizer kits: Travel Basic standard organizer 5-piece set (L) and the Le Organize 3in1 kit (R)
Having the right travel bags and accessories is an investment that will ensure your future trips will be even better as you are more prepared and organized.